Membership
Razorback Seats 3D
Tickets and Parking
Membership
Tickets and Parking
Razorback Seats 3D
---
RazorbackSeats3D is an online seating selection process that allows you to see the viewpoint from each open seat in both Donald W. Reynolds Razorback Stadium, War Memorial Stadium (Little Rock) and Bud Walton Arena. Once logged into the system, season ticket holders will be able to:
Add additional season tickets to their account
Move and/or upgrade existing seats to a different available location
Select new season ticket locations
Step 1:
Renew your Season Tickets or Make a Season Ticket Deposit
All non-donor season ticket holders who renew their football season tickets on/before March 31st will be assigned seats in the same location as last season. Razorback Foundation members, with season tickets in any priority seating area who have renewed their season tickets with The Razorback Ticket Center, will be assigned seats in the same locations provided their Letter of Intent has been returned to the Razorback Foundation on/before March 31st.
Step 2:
Receive your Exclusive Seat Selection Time
All season ticket holders will receive an exclusive date and time in which they will be able to log-in and make seating changes. Appointment times will be determined by a member's current classification and priority points as of March 31st for Football. Men's Basketball appointment times will be sent mid-July and are determined by member classification and priority points. No action is required if there is no change or addition of seats.
Step 3:
Select your Seats
Beginning the first day of selections anyone can log-in to monitor the process; however, selections cannot be made until a person's assigned date and time.
Tablets and mobile devices (iPhone, Android, etc.) are not compatible with the RazorbackSeats3D website.
Google Chrome is the preferred browser for the RazorbackSeats3D selection process. Please note that Internet Explorer is not compatible with the website. (Use this link for instructions on downloading Google Chrome)
Beginning at 5 PM on the day before seat selection begins, a link will appear in your My Account page for "2021 Football RazorbacksSeats3D Seat Selection" OR "2021 Basketball RazorbacksSeats3D Seat Selection". By clicking this link, you have the opportunity to view available inventory. As a reminder, you will not be able to make selections until your appointment time is current.
Double check your current tickets in your account for accuracy BEFORE the process begins. Remember, if you renewed your tickets but did not renew your RF pledge at the same amount or higher than the previous year, you will enter RS3D WITHOUT seats in your account and must reselect seats. As a reminder, a decrease in RF donation will also result in reallocation of parking.
Once your appointment time is live, you can get on at ANY time to make your selections before the site closes (i.e. at the start of your appointment time, an hour later, two days later, etc.).
Once you have completed your selections, your account is closed and you will not be able to go back in and make changes.
If at any point during the process, you are no longer able to login to the site, first try clearing your browser's cookies/cache/history. If the issue persists, please call (479) 575-4595.
If you have trouble logging in:
Try "Forgot Password".
Make sure your account is "linked" using the "Manage My Account" page on eVenue.
Try a different email address. It's possible that the email address that you receive messages from us is not the same email that you have linked to your tickets/donation.
If you are still unable to login, please call the Razorback Foundation at (479) 443-9000 to speak with a membership team representative. If a pin number is required, they can provide it for you.
Selection Reminders:
Appointment times are assigned based on Razorback Foundation membership class and priority points.
Below are the maximum ticket quantities that can be purchased at each membership level as well as the sections each membership class is eligible to purchase tickets.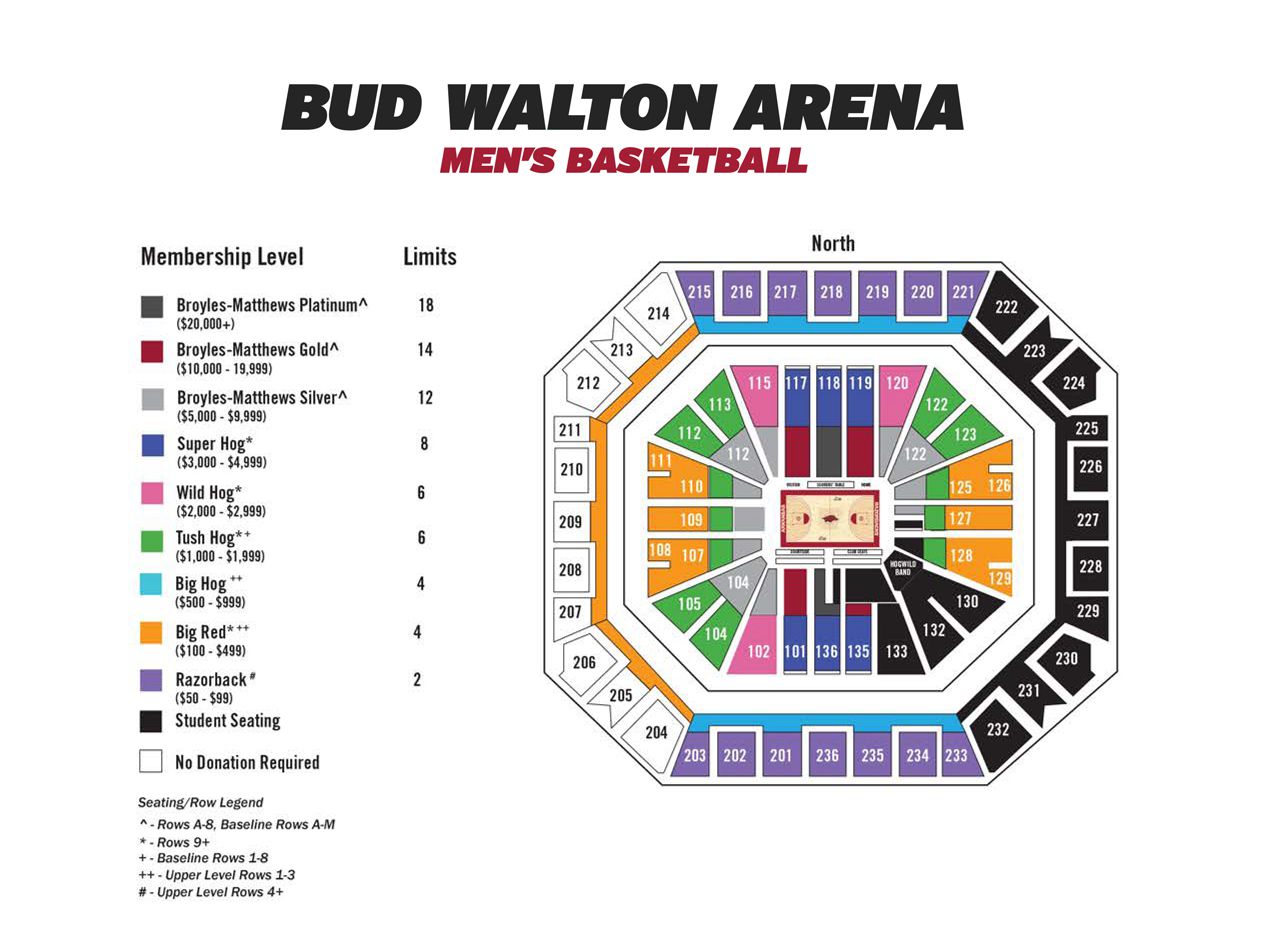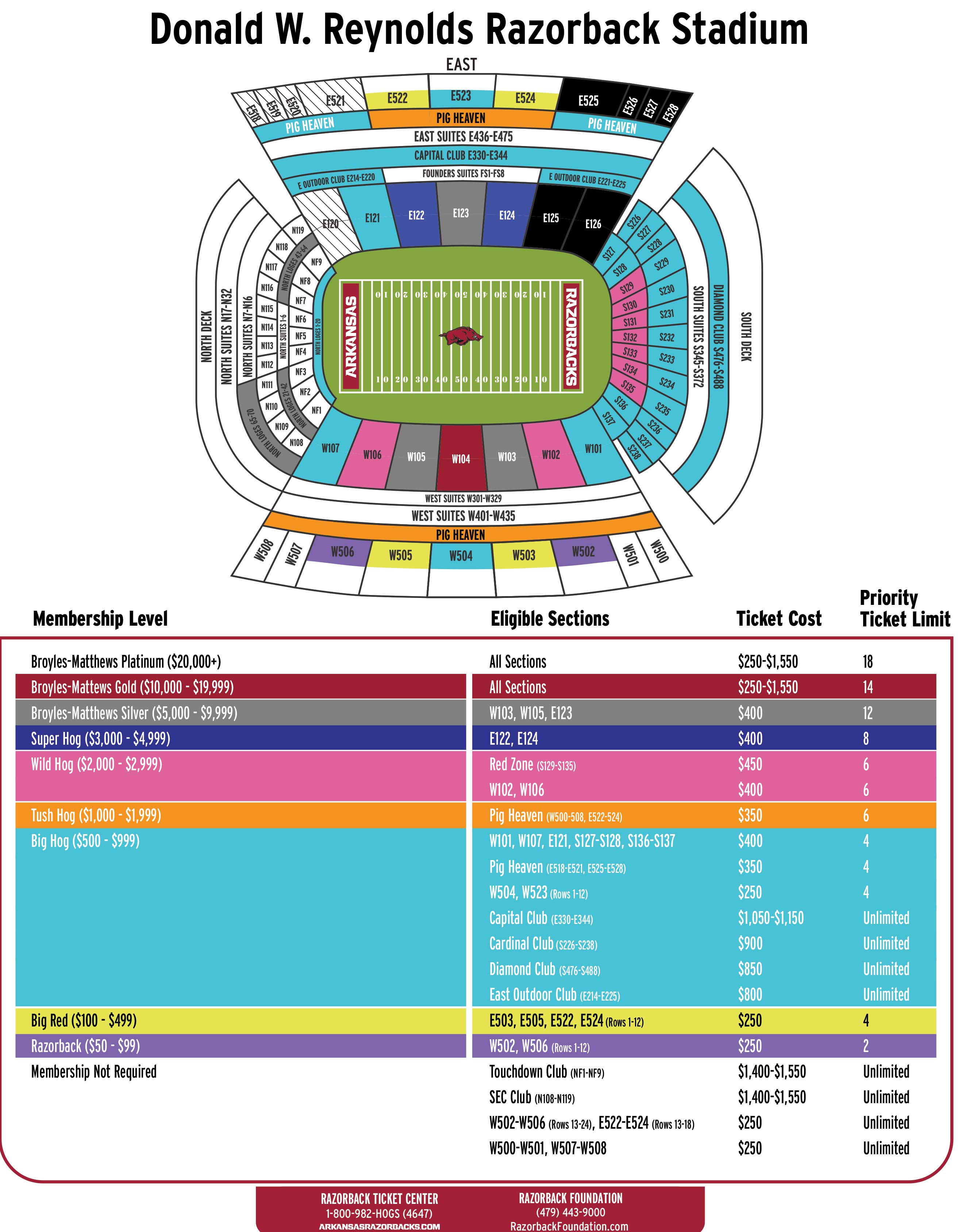 You cannot strand a single seat when selecting seats. For example, if there is a group of four (4) seats together, you can select one (1), two (2), or all four (4), but cannot select three (3) and leave one seat by itself.