What is Cardinal & White?
Cardinal & White is the newly-established philanthropic society of the Razorback Foundation designed to support facility construction and renovations, student-athlete development opportunities, scholarships and other operations of the Athletic Department designed to enhance the student-athlete experience. Gifts made to Cardinal & White are philanthropic in nature and are not associated with seating or parking benefits.
Any gift to Cardinal & White is a philanthropic donation that supports the mission of the Razorback Foundation and Razorback Athletics. In addition, Cardinal & White members who donate $25,000 or more receive invitations to exclusive events with coaches and staff, and specially designed Cardinal & White apparel. Benefits include facility naming opportunities, pre-game sideline access for select home football games, football away game travel, and more depending on the gift. Please see the benefits of joining Cardinal & White (PDF). All gift commitments of $25,000 or more will automatically qualify for membership in Cardinal & White.
Through the generosity of our loyal members, Cardinal & White will help develop and sustain the Athletic Department of the University of Arkansas by providing world-class educational opportunities and athletic facilities such as the existing plans for the J.B. and Johnelle Hunt Family Baseball Development Center, the Frank O'Mara Track & High Performance Center and renovations to the Randal Tyson Indoor Track Center.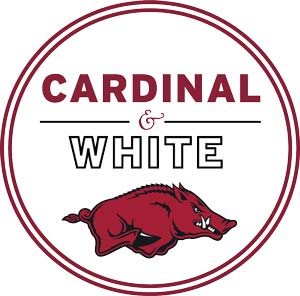 How is Cardinal & White different than the Annual Fund?
Gifts to Cardinal & White are contributions above and beyond Annual Fund gifts in support of numerous student-athlete scholarships, programs and initiatives along with several upcoming facility projects. The Annual Fund continues to serve as the priority seating and parking program for the Razorback Foundation.
How do I join Cardinal & White?
Fans interested in joining Cardinal & White are encouraged to fill out a Gift Commitment Letter online or download and return the Gift Commitment Letter (download PDF) to the Razorback Foundation at 1295 South Razorback Road, Ste. A, Fayetteville, AR 72701.