Programs
Spirit Squad Club
Programs
Spirit Squad Club
---
The mission of the Razorback Foundation Spirit Squad Club is to connect, engage, and foster life-long bonds among current and former University of Arkansas Spirit Squad members as part of the Razorback Family dedicated to promoting Razorback Athletics and the University of Arkansas.
In order to foster a vibrant, passionate community of former Razorback Spirit Squad members, the Spirit Squad Club creates a home where current and former squad members can connect, network and further champion the spirit of Razorback Athletics.
The Razorback Foundation is also proud to house the Jean Nail Fund in honor of her many loyal years of service to Razorback Athletics. For more information or to make a contribution to the Jean Nail Fund, please email gohogs@razorbackfoundation.com.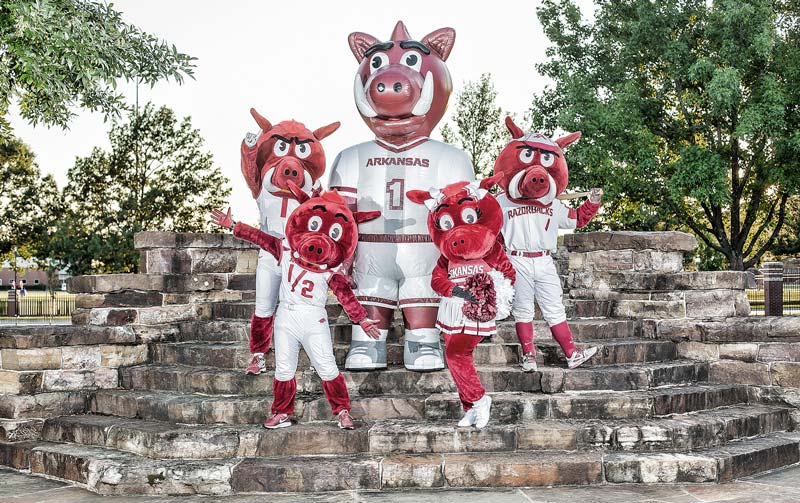 Reconnect with Former Spirit Squad Members!
---
For the benefit of all members, the Spirit Squad Club will host one special reunion event each year:
Homecoming Reunion – An informal and family-friendly reception will be held each fall in connection with Homecoming Weekend.

All active members of the Spirit Squad Club receive the following annual benefits:

An official membership card
The opportunity to purchase available season tickets to Razorback football at the 500 level of the Donald W. Reynolds Razorback Stadium without a seat value donation, subject to the availability of such seats and after filling all ticket orders for fans who pay a seat value donation in those sections
One reception/networking opportunity with other former Razorback Spirit Squad members and their families
15% discount at Hog Heaven on non-gamedays
Invitations to special events and more
Join the Spirit Squad Club Today!
---
Membership Criteria: Anyone who served as a Razorback Spirit Squad member (cheer, pom or mascot) for a minimum of one (1) academic year is eligible for membership in the Spirit Squad Club. The Razorback Foundation, in its sole discretion, shall make all membership eligibility determinations, and those decisions are final. Each eligible individual seeking to participate in the Razorback Spirit Squad Club agrees to donate $50 to the Foundation annually. To join the Spirit Squad Club, please create or sign in to your Razorback Foundation account. Once you have signed in, locate the Spirit Squad Club Member Drive and continue to complete your membership.
The Spirit Squad Club is a program of The Razorback Foundation, Inc. and provides opportunities for former Spirit Squad members to reconnect and engage with fellow former squad members while furthering their support for Razorback Athletics. The Spirit Squad Club has no responsibility or management oversight for the Athletic Department's administration and operation of its spirit squad program.